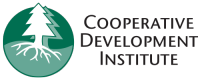 CDI makes democratic ownership work for everyone.
We work with start-ups, established cooperatives, and businesses considering conversion to cooperative ownership. We work with every kind of owner: consumers, workers, residents, farmers, fishermen, foresters, independent businesses and municipalities, and multi-stakeholder cooperatives.
CDI collaborates with numerous other actors to work toward ourvision. Our particular role is to provide direct technical assistance services and training, communicate about the multitude of paths individuals and groups can take toward the vision, and convene meetings that spark further collaboration and development. We help bring the resources and energy together to produce creative, lasting responses to our real human needs.