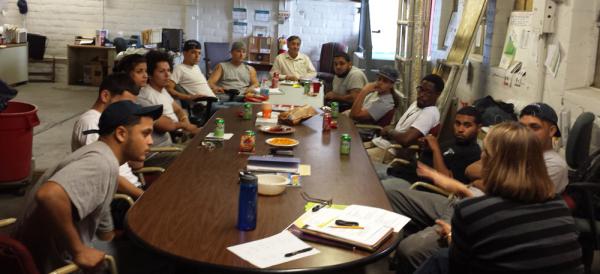 By Laura Porter, Co-op Power
Workforce development is a challenge in many industries, especially when applicants for entry-level positions may have little or no professional experience, are unfamiliar with the technical skills required to be successful in their new positions, and are often faced with life challenges that compete with the job for a new hire's attention and focus. Many cohort-based training programs are developed to provide a comprehensive introduction to these areas, but often do not secure job opportunities for all the participants who complete the program en masse, leaving graduates better prepared to work but facing real lack of work opportunities to apply their new skills and earn a living.
Co-op Power's "Good Green Jobs for All" workforce training program was designed with employment as the top priority, incorporating staggered and flexible training schedules to address the fluctuation of employer demand for new employees. This innovative program diverges from typical training models because it focuses on the entire ecosystem of activities needed for job placement, while other models may simply provide skills training. Amidst a job market that is variable and unpredictable, Good Green Jobs for All steps up to the challenge of training people for the goal of job placement and advancing long term career opportunities.
Long-term partnerships with employers is the goal of initial outreach and builds the foundation of Co-op Power's training program. Employers help shape the core elements of the training series, and after hiring trainees, are eligible for reimbursement for on-the-job training costs for a trainee's first 4-6 weeks of work, and have the option of receiving ongoing support to send program participants to industry-specific trainings recommended for success in the field. Participants attend trainings in response to an employer's priorities, aligned with their pursuit of new skills and a career pathway. Program participants are recruited through outreach to career centers and community organizations, though many also come from direct employer referrals. Staggered trainings allow a more continuous flow of participation and integration into the job market, with increased likelihood that participants will secure employment. Co-op Power maintains a relationship with the training program participants to help them navigate challenges in their transition to employment, while also keeping open lines of communication with employers to troubleshoot any issues that may arise during the training period.
"Just-in-time" workforce development can be applied to many industries in the new economy. The beauty of the model is that it creates timely and meaningful training opportunities between job-seekers and employers, inviting participation of businesses that appreciate cost-saving and workforce development benefits, while providing skill development opportunities for local community members entering the workforce. By creating a forum for shared interests and concerns within an industry, the training program also builds linkages among businesses and creates opportunities to address other industry challenges, such as the creation of purchasing cooperatives for materials, development of a day labor temporary pool of trained workers, exploration of mentoring and other in-house support services to trainees, and development of community building activities for workers in the industry.
Job-Centered Workforce Training is a model that offers flexibility and the ability to respond to the needs of employers and jobseekers in a timely way, leading to increased employment, expanded training opportunities, and increased effectiveness at supporting the entry-level training needs within a wide range of industries. To shift toward an economy that guarantees good work and meaningful opportunity for all, we must expand innovation into the workforce development system and move beyond the shortsighted goals of skills training. Too often, in traditional workforce development programs, groups of trainees spend weeks learning new skills and knowledge, then have no opportunity to apply their learning in an actual employment scenario. Training programs require involvement of employers to be effective and relevant to the expansion of their workforce; at the same time, workforce development needs to lead to work for it to truly meet the needs of the jobseekers.
Co-op Power, a regional network of local communities creating a multi-class, multi-racial movement for a sustainable and just energy future, is a consumer-owned energy cooperative serving the New England region. Our members identified green jobs development as a top priority, a key to the growth of the just and sustainable new economy we are creating. To this end, over the past 10 years we have helped to start 12 green businesses, trained more than 200 individuals and placed more than 120 jobseekers into new employment through our Good Green Jobs training program, focused primarily on the Western Massachusetts area but with plans to expand and replicate the model to the Boston area and other communities we serve. Our training program evolved toward the just-in-time Job-Centered model described here after realizing the challenge of job placement with a larger cohort-based training program. We serve as a resource hub to a network of 15+ clean energy employers in the region who have participated in the Green Jobs Training program, providing referrals, training provider details, information about workforce development funding opportunities, and opportunities to participate in continued implementation of Good Green Jobs Training, pending funding availability.
| | |
| --- | --- |
| | Laura Porter has coordinated Co-op Power's Good Green Jobs Program for the past two years.  Prior to that time, she ran a food and fitness policy council, taught ESOL throughout the region, and worked in the Peace Corps in El Salvador in the 90s.  She has experience with a range of workforce development models and has been very impressed by the effectiveness of the "just-in-time" workforce model in use at Co-op Power. |