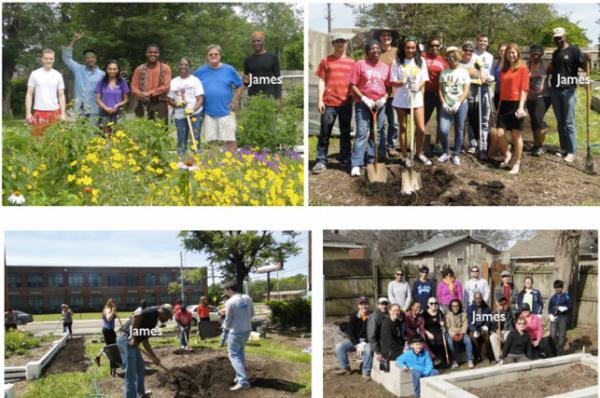 By Katie Lorah, Ioby.org
This summer, a group of neighbors in North Memphis raised enough money to buy their neighbor, James Alsobrook, a new lawnmower. The $559 they raised through crowdfunding covered the cost of a Honda Variable Speed Self-Propelled Gas Mower and a gas can from Amazon, as well as a heavy-duty chain, lock, and sharpening tool from Home Depot.
James lives next door to Carnes Garden, a formerly rubble-strewn vacant lot-turned vegetable patch and teaching garden that had become a beloved focal point for this community near the Medical Center. It's the kind of neighborhood that policymakers might refer to as "under-resourced," and it bears the physical and socioeconomic marks of decades of disinvestment: high vacancy, poverty, and unemployment.  But the new garden was a bright point, a place for hands-on science curriculum for the neighboring elementary school, and for neighbors to come together to work on building something positive. 
And as for the lawnmower? James had become well-known as the garden's de-facto volunteer groundskeeper – because of him, its tidy lawn and well-kept plantings stood out amid the overgrown and littered vacant lots nearby. When he lost access to a lawnmower he had been borrowing, his neighbors were quick in coming up with a solution. They launched the crowdfunding campaign "We Want to Buy James a Lawnmower" on ioby.org, our nonprofit platform geared toward small-scale, neighbor-led projects, and on which the original funds for the garden had been raised the previous year. They met their funding goal within three weeks, and surprised the delighted James with the lawnmower in late August.
Here's what we at ioby love about this story: Of the many city leaders, policymakers, foundation funders, and nonprofit organizations looking to address the consistent challenges of areas like North Memphis, nobody would have bought James a lawnmower. Poring over a map, reading demographic data, even driving through the neighborhood on a site visit would never have revealed that what the community needed at that time was a mower, a gas can, and a lock -- and that it could all be purchased for less than $600.
As simple as the solution was, the idea had to come from within the neighborhood. Equally important, the money needed to come from the neighborhood, from people who knew James or at least had the implicit understanding of his role in the garden and the community.  Together his neighbors were able to raise – in funder terms -- right-size, timely, and directed funds to support a self-appointed local leader doing a crucial job.
The benefits of place-based, community-led campaigns like this one extend far beyond the dollar amount raised, which is usually modest (the typical ioby campaign raises just under $7,000 with an average donation size of $35).  Though we run an online platform, most of ioby's work happens offline. Through our training and one-on-one support service, campaign leaders learn the basics of fundraising and community organizing, new skills for the majority of leaders. For even the most ambitious and well-connected leaders, that learning curve can be steep – making a case to your neighbors for why they should give you their hard-earned money doesn't often come naturally. But the skills gained through carrying out a crowdfunding campaign – skills in planning, budgeting, pitching, promoting, donor-cultivation, and implementing – build individual leadership and can ultimately contribute to a stronger, better-connected and more resilient neighborhood.
When based in local knowledge and supporting local leadership, crowdfunding can be a powerful tool for building capacity in communities that need it the most. ioby works deliberately to recruit project leaders in low-income, historically under-resourced communities of color, where there's often great disconnect between local knowledge and official decision making. We don't choose the projects – neighbors come to us through word of mouth and through our partner organizations. And we don't provide the funding – neighbors do that too. We simply provide the platform and the support to help residents step up to make positive change in their own back yards – channeling small donations toward immediate needs, like a new lawnmower, while growing their own capacity as fundraisers, community leaders, and advocates. That's why we should rely on our neighbors as experts, and that's how $559 can change a neighborhood for the better.
---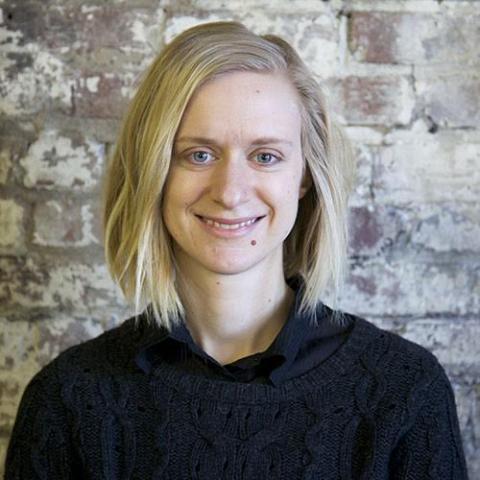 Katie Lorah is Communications and Creative Strategy Director at ioby, a civic crowdfunding platform in Brooklyn, NY. An urban planner by training, her work centers on mobilizing community participation in placemaking and public space projects.