Thursday, November 12, 11:00AM

to

Friday, November 13, 7:30PM
MaRS Centre for Impact Investing
Canada
Contact Information:
For general inquiries contact Sarah Basiri at sbasiri@marsdd.com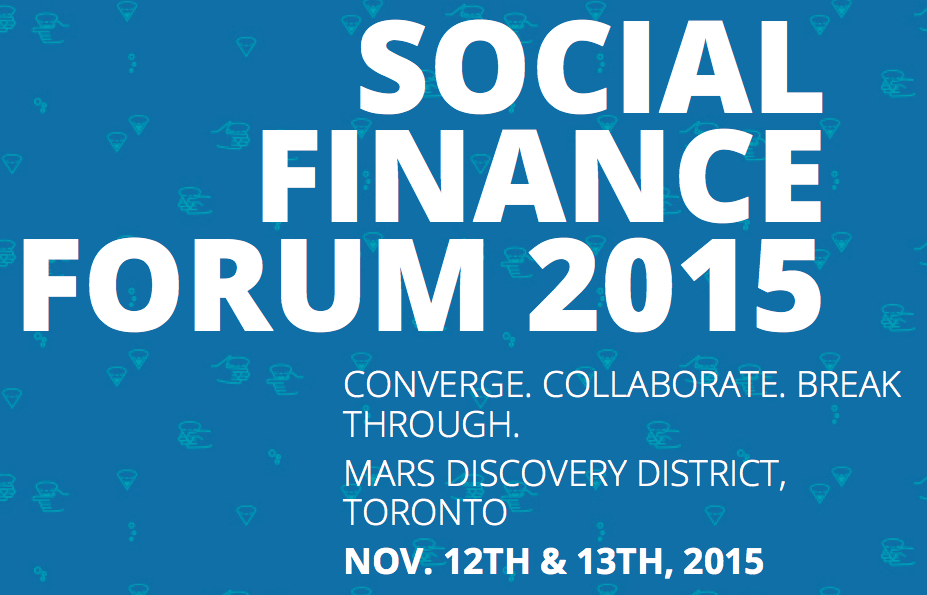 The 8th annual Social Finance Forum is the place to engage and profile leaders in Canada's diverse social finance scene and to capture advancements from the world stage. The emphasis this year will be on a fresh design that emphasizes networking and relationship building.
The aim? To enable our sector-leading attendees to Converge, Collaborate and Break Through on their world-changing work.
Who Attends?
Investors, Wealth Advisors, Fund & Asset Managers
Public Servants, Nonprofits, Charities & Foundations
Social Ventures, Co-ops, For-Profit & Nonprofit Entrepreneurs
Market Builders, Financial Institutions & Corporations
Why Attend?
Social Finance is changing the way we work together in Canada to address critical problems facing people and the planet. Now more than ever before, Canadians are joining forces by using the best of business and community approaches to invest and grow impactful ventures and initiatives that provide a financial return to investors.
Identify impact investing opportunities
Develop your social finance strategy from social innovators and thought-leaders
Explore innovative cross-sector funding opportunities
Network and engaging with forward-looking investors
Scale your impact & diversify your portfolio
Be a part of the global momentum
English