Tuesday, November 10,

12:30PM

to

7:30PM
WoodGreen & the Danforth East Community Association
Canada
Contact Information:
Contact: Gay Stephenson or Tina Scherz, Community Economic Development Coordinators T 416-645-6000 ext. 1322 / 1184 gstephenson@woodgreen.org or tscherz@woodgreen.org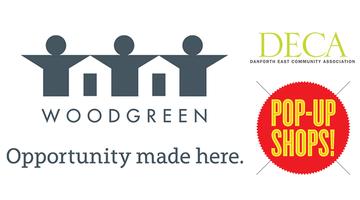 Learn from experts about how local communities and businesses can work together to revitalize local economies and provide opportunities for all. Presentations and workshops will show you how to:
Create Walkable Communities and Vibrant Main Streets for All, Jennifer Keesmaat, Chief Planner City of Toronto
Fill Empty Retail Spaces and Build Community with Pop-Up Shops
Make Small Scale Enterprise a Transformative Force, Rafael Gomez, Prof UofT & Author, Small Business and the City
Energize Main St with Pop-up Incubators, Pauline Larsen, Senior Economic Development Manager, Downtown Yonge BIA
Be Innovative with Micro Retail, Kevin Hurley, Special Projects Manager, Centre for Social Innovation
Follow these Steps to a Successful Main Street, (no matter its population, ethnic composition, location, income, or budget) - Michael D. Smith, Director of Real Estate, StreetSense creators of Vibrant Street Toolkit.
Lots of opportunities to network!
Bring your BIA/Neighbourhood Association to learn more!
Lunchtime Meet and Greet Marketplace Talk to the innovators! Learn about alternative tenancies for small enterprise, business in the box (container conversions), micro markets, doing business in a park and much more. Lunch is included ~ pay what you can (donations gratefully accepted). 
About the organizers:
DECA/WoodGreen's successful Pop-up Shop program on Danforth East fills empty storefronts, gives entrepreneurs a great start, brings local shoppers out on the street and engages the community in the effort! The program has reduced the storefront vacancy rate to a healthy 9%, down from 17%.
English