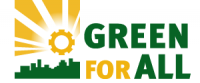 Our Mission
Green For All is dedicated to improving the lives of all Americans through a clean energy economy. We work in collaboration with the business, government, labor, and grassroots communities to increase quality jobs and opportunities in the green industry– all while holding the most vulnerable people at the center of our agenda.
Communicate
Green For All translates complex information from national initiatives and experts into eye-catching media that will inform vulnerable communities about the realities of climate change. Since our inception, Green For All has served as an air traffic controller of information, using our strong relationships across very different sectors to ensure that the right individuals understand the right information at the right time.
Convene

We bring a unique set of relationships to our work: decision-makers (from mayors to federal agencies like the EPA), national organizations (from environmental groups like 350.org and the Sierra Club to civil rights groups like the NAACP), local community and business leaders (from our Green For All fellows to companies like Mosaic and Volt Energy), to pop culture icons (like Prince, Drake, and Wiz Khalifa). Green For All supports and produces events that build relationships between people and organizations needing to drive the creation of climate change solutions for vulnerable communities. In events both inspirational and technical, we convene practitioners, activists, and decision-makers to accelerate the pace of thought leadership in this field.
Catalyze Action
We incubate the best ideas from our gatherings and relationship-management work in a series of projects that Green For All will house on an annual basis. These projects are selected based upon their ability to address multiple needs (poverty, climate resilience, health, social capital development, etc.), replicability, and ability to forward the narrative about vulnerable communities driving their own solutions to climate change.