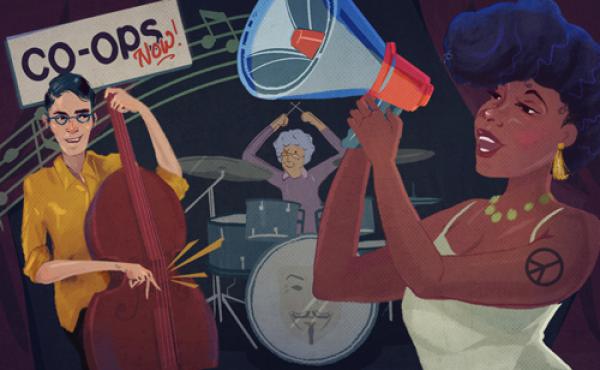 In the fall of 2011, cries of "We are the 99 Percent" echoed out from the streets of lower Manhattan to the rest of the United States and around the world. One simple phrase—the 99 percent versus the 1 percent—managed to capture the feelings of so many ordinary Americans in the wake of the financial crisis: we got screwed and they screwed us.
Four years on, YES! Magazine and the New Economy Coalition ask: what are the solutions for the 99 percent? We need a fundamentally re-envisioned economy that puts people and the planet first. What are the phrases and images that can galvanize the movement to demand what's next, and illustrate the inspiring work already happening to build it? For New Economy Week, we're calling on you to tell us what evocative slogans, scenes and catchphrases can bring the New Economy to a broader audience. Simply put, we're tired of drawing windmills and pictures of farmers' markets. We need new images and powerful metaphors that capture what's vibrant about our movement and resonates "beyond the choir."
That's why we're enlisting artists like Jennifer Luxton to bring your ideas to life. Together, we'll turn the top two concepts into full-size, full-color posters, unveiling the winners as we kick off New Economy Week this November 9 -15. The winning illustrations will run on yesmagazine.org, and winners will receive framed copies of their poster, a year's subscription to YES! and a signed copy of Gar Alperovitz's latest book, What Then Must We Do: Straight Talk About the Next American Revolution.
Here's what we need from you:
Use the form below to submit your idea for a slogan by Tuesday 10/20, and the concept you want illustrated. Remember to keep it short (150 words or less), simple and compelling. Are there characters in your poster? Let us know who they are, what they look like, and what they're doing. Use descriptions for each of the 5 daily themes for New Economy Week to guide your thinking, or make something else up entirely! If you need more inspiration, check out the work of NEC's members at neweconomy.net, and the stories from around the new economy highlighted by YES! every day.
We also ask that you include a slogan that our artist can write on the poster with your design. The best slogans are just a few words.
Note that we are NOT accepting illustrated submissions—just ideas, and we ask that each person submit no more than 2 during the length of the contest. We'll do our best to get back to you in a timely fashion, and can promise you will receive word on the status of your submission by October 21st at the latest.
All submissions text will be considered Creative Commons and, if illustrated, rights for the final product will be at the discretion of the artists.